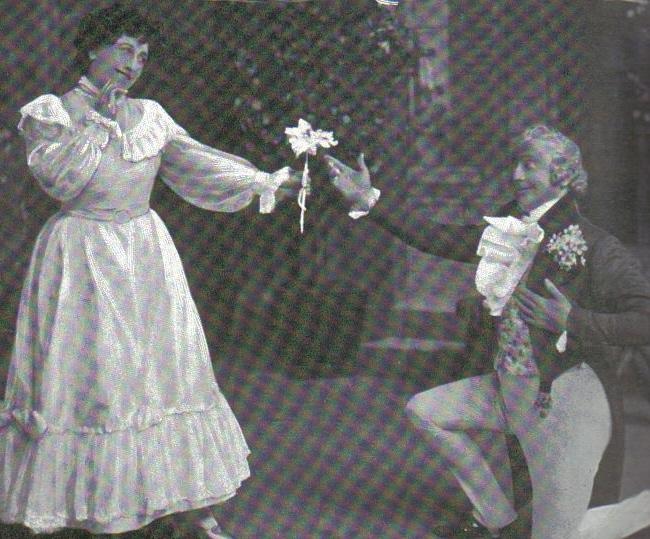 Sunsets and Edelweiss (2010)
On March 11 2010, the company had a most successful programme. We moved to a new venue at First Presbyterian of Winnebago, and gave a concerted performance of three Edwardian operas: A Welsh Sunset by Frederick Fenn and Michael Faraday, The Mountaineers by Guy Eden and Reginald Somerville, and selections from Two Merry Monarchs by Orlando Morgan.
In this production, we acknowledged the 100th anniversary of Two Merry Monarchs. A second performance was given on March 13. We had our first public review in the Rockford Register Star and we also appeared on WIFR-23 on March 5 to promote the event. We succeeded in breaking all previous attendance records, and established a new standard for light opera in the Rockford area.
As a result of this programme, we were nominated for a Mayor's Arts Award in September 2010.
Click here to hear music from A Welsh Sunset, and The Mountaineers.
The participants
Lorie Parker-Weinrich
Erica Reed
Sue Lewis
Vicki Marcum
Giovanni Grimaudo
Scott Farrell
Kurt Schoening
Kelly Beaman
Michael Carlyle
Steve Lilja
Selections from "Two Merry Monarchs"
- Since the World Began (Parker-Weinrich and Chorus)
- You'll Never call in vain (Reed and Grimaudo)
- Utopia (Beaman)
- A License for That (Farrell and Chorus)
- My King can do no wrong (Reed)
Selections from "The Mountaineers"
- Hither again on our market day
- Was it the sigh of a passing soul?
- Travelling
- Doubting
- The Legend of the Edelweiss
- Trip we now our dainty measure
- What man is this? ... A well-filled pipe
- Sleep Song
- Although my hair is grey
- The Ship and the Wind
- This morning I woke with the dawn
- To arms, to arms, my comrades!